Creating Templates in Microsoft Word
In this article, we will learn how to:
Create, save, use, and edit templates
Need Microsoft Word training? Training Connection offer onsite training countrywide and public Word training in Chicago and Los Angeles.
Creating a Template
Templates allow you to create a boilerplate document that can be used over and over. For example, if you look at some of the pre-built templates included in Microsoft Word, you will see letters, reports, flyers, and many more document types that you can customize.
Let's create a report template. To start, click Insert → Cover Page → Integral:

Place your cursor on the second page. Click References → Table of Contents → Automatic Table 2: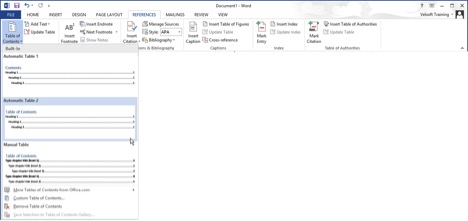 Click OK in the dialog that appears:

Press Ctrl + Enter to create a new page. Click the Home tab and click the Heading 1 style:

Type "Main Title:"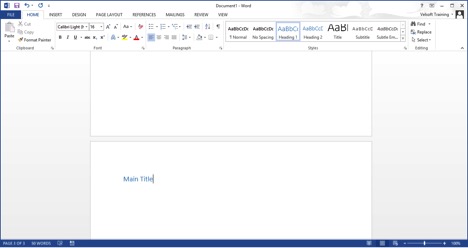 Press Enter. Click the Heading 2 style on the Home tab: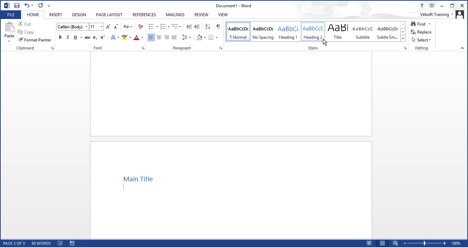 Type "Sub Title:"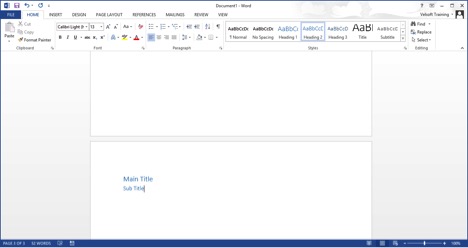 Now, click Insert → Footer → Integral: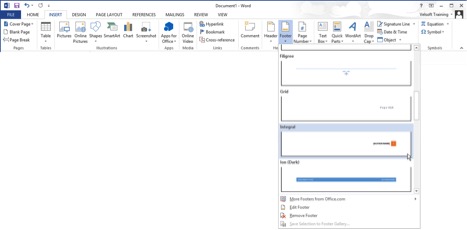 We now have a basic format for a document. Leave the document open and continue to the next topic.
Saving a Template
After having constructed your template, you need to save it in a special format. Click File → Save As:

With the Save As category selected, you have the option to save the template to your computer or to your OneDrive account (if you have signed into Office using a Microsoft account). Click the Computer option and then click Browse: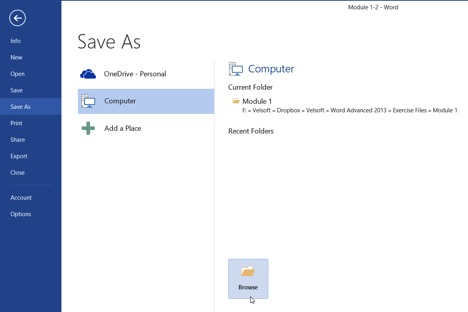 The Save As dialog will open. Click the "Save as type" drop-down menu and choose "Word Template:"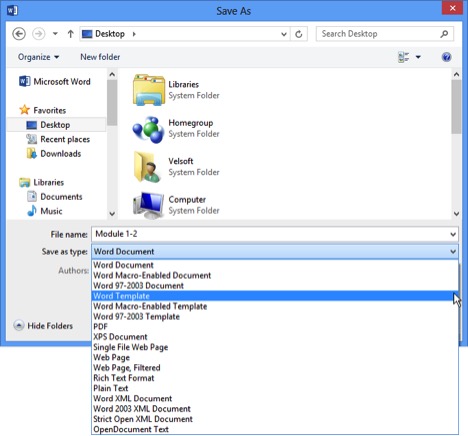 When the Word Template option is chosen, the Save As dialog will automatically navigate to the Custom Word Templates folder. Type "Module 1-2 Complete" in the "File name" field and then click Save: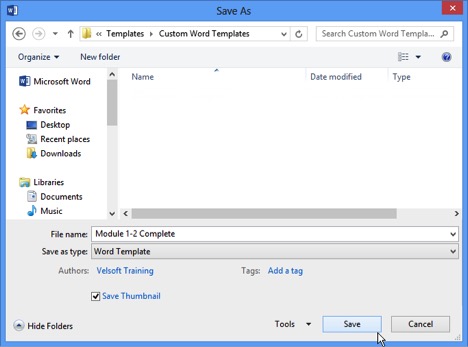 The template will now be saved and available from the File → New gallery, under the Personal category: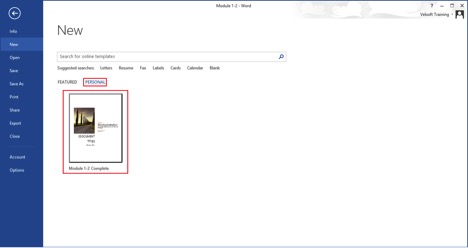 Onsite Microsoft Word training
We deliver Microsoft Word training onsite across the country through our network of national trainers . View our Word testimonials or request a quote for onsite Word training.