InDesign 2023
Quickstart Training Course
This 1-day beginner class is designed to get you up and running quickly in InDesign. You will learn to layout pages with text and graphics. In no time at all you will be able to control typography, add photos, create/use colors, and more!
The training consists of 5 unique Real World projects.
What's Included
Certificate of Course Completion
Color Training Manual
FREE Class Repeat (valid for 6 months)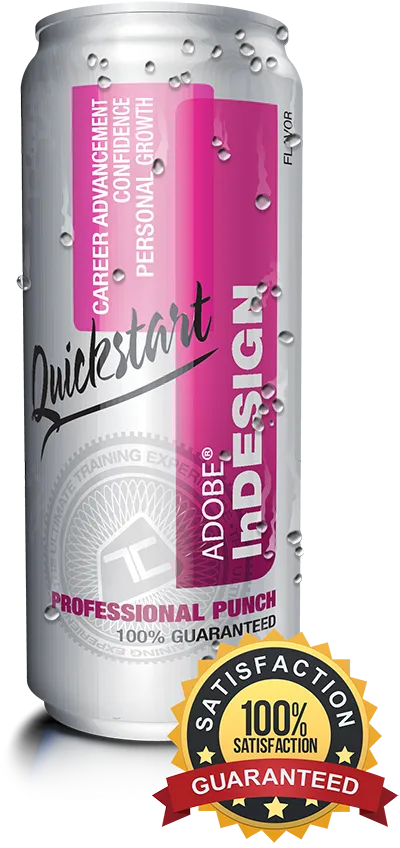 Live face-to-face instructor
No minimum class size - all classes guaranteed to run!
No prior experience of InDesign is needed. Training available on Mac and PC.
This 6-hour class is meant to get you started fast. If you want to learn InDesign in greater depth, check out our 18-hour InDesign Fundamentals class or view our full range of Adobe InDesign training courses.
Book Course
Detailed Course Outline
Learn the fundamentals of the lnDesign interface and navigation as well as basic text formatting.
New document settings
Navigating the interface
InDesign fundamental workflows
The anatomy of a frame
Use fundamental tools to re-create an infamous radio news bulletin from the 1940's.
Working with and re-sizing text frames
Importing and managing graphics
Importing and managing text
Create an entire retro poster and learn how to import a graphic logo and work with eye-catching titles.
Creating a document for Print
Setting the bleed
Working with titles and subtitles
Creating decorative elements
Learn the basics of page layouts and a deeper study of working with type inside of lnDesign.
Simple layout sketching
Working with a multi-column document
Placing and formatting images
Text wrapping
Learn how to create and layout a 2-Page Magazine Ad for delivery to a printer.
Setting up the document as a 2-Page spread
Working with facing pages
Working with and formatting bulleted lists
Working with FX to solve object issues
Working with decorative fonts
Printing as a spread
Simple web export
Our outlines are a guide to the content covered in a typical class. We may change or alter the course topics to meet the objectives of a particular class.