Presentations that Capture your Audience
In order to stand out from the crowd, you need to be extra creative with your PowerPoint presentations.
Whoever your audience or whatever your subject matter, the design you use for your presentation is vital.  As there are so many template options with modern design techniques available on the internet, it's easy to start with some ideas from those and use your creativity to build from there.
For more details on our Los Angeles Presentation classes call us on 888.815.0604.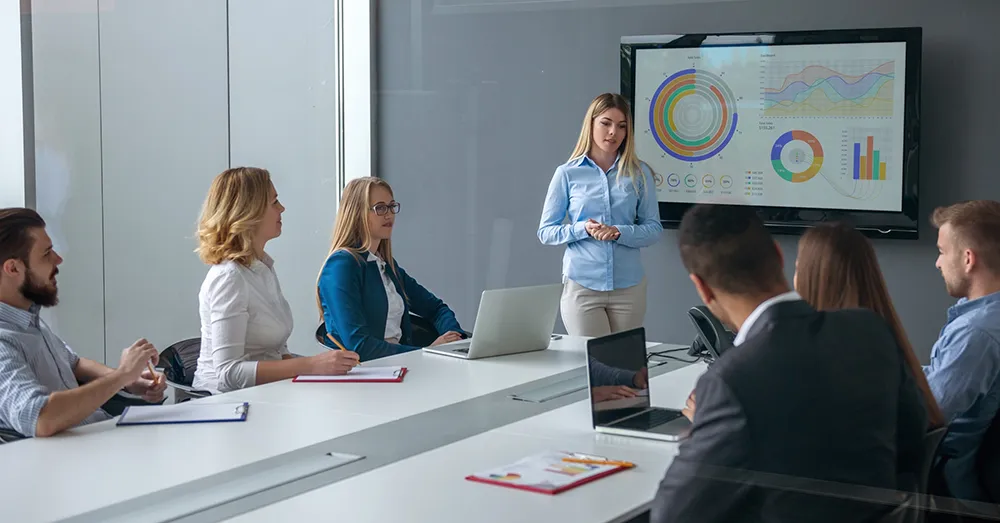 In addition to using your creative skills to create an engaging presentation, you need to remember to convey your message accurately and without too much unnecessary detail.  Using bullet points and numbers can be effective in breaking up large sections of text.
Another very helpful tool is the use of grids in PowerPoint.  Out of proportion slides can be distracting for your audience.  Grids can provide a ratio for your images which will be visually pleasing.  Have a read of this article for more interesting information on grids and how to use them How to Use Grid Effectively.
With reference to our point above about unnecessary detail, you will probably have heard of the rule that 'less is more".  While being creative, it's a good idea to decide on your master slide design with font size, colours etc. and stick with that same theme throughout your slides.  Your message is the most important factor so remember to keep things uniform so your audience is able to receive you message without distractions.
Once you've created your first slide using the font size, colour and images you choose, you can simply duplicate that slide for the rest of your presentation, changing the content wording of each slide according to your message.  In this way you don't have to recreate each slide from scratch, which will save you a lot of time,
Aside from your creativity and the professional design for you slides, you also need to focus on some other guidelines to ensure the success of your presentation.
Timing of your presentation
If possible, it's best to choose a mid-morning slot for your presentation.  This is when your audience is likely to be most receptive and less fatigued.
Brief and to the point
Generally, audiences will have a relatively short attention span, especially if they are busy individuals setting aside time to attend your presentation.  It's important to keep your presentation punchy, brief and to the point.  No long texts to read but rather bullet point facts that bring the salient points to front of mind.
Audience participation
First impressions are important for your presentation.  Encourage your audience to participate in discussion from the start and use humour to enhance involvement.
Emotional links
Use sentiments to make an emotional connection with your audience.  This will humanize your message and make the audience able to relate to what you are trying to bring across.  Emotional connections are motivators for people to take action.
Visual links
As important as your emotional links are your visual aids.  Most people learn through visual connections, so using visual aids will ensure your audience grasps your message.  Graphics and images will provide amazing subconscious support to your message while you're delivering your presentation.  Keep them simple though to ensure they are easy to understand.