The Undo Command in Photoshop
By Rhonda Jackson, Adobe Expert/ACI
Most of us are familiar with the Undo command that is available in many of software programs we use. The Ctrl + Z shortcut is pretty universal and works in most programs. In Photoshop the Undo Command functions a little different.
To join one of our Certified Photoshop training classes in Los Angeles call us on 888.815.0604

The Undo Command is located under the customary Edit Menu, like it is in most software programs. But Photoshop allows users to undo the last step completed. If you want to undo more steps, you need to select the Step Back Command from the Undo Menu. (You can set the number of Undo Commands you can perform in Preferences.)

Using the History Panel to Undo Commands
The better way to undo editing steps in Photoshop is to use the History Panel.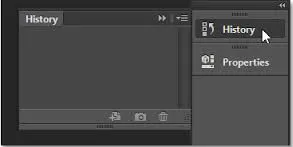 The History Panel records every editing step you have completed on an image in Photoshop. If you want to Undo the last Command, you only need to select the Step above the last edit completed in Photoshop.

You can see in my example that I have applied a Blending Mode and a Filter to my image. I want to Undo the Filter I applied. In order to Undo Commands you always have to Undo the steps in reverse chronological order. You can't skip around and undo steps in a random order.

If you want to Redo those two steps all you have to do is select the last step again.

If you want to return to your original image, you can select the Thumbnail at the top of the History Panel. This is good for seeing the before image and the after image. Many designers use the History Panel to see the progressive changes from their editing steps. The History Panel of commands will remember your steps until you perform a new step.
The key to using the Undo Command is to remember that once you Undo a command, if you perform another edit on your image you will not be able to Redo or select the step that you reversed. Once you close Photoshop the History Panel is erased and you can no longer Undo Commands.